World Book Deluxe Edition
by IBM
Ages 10 and up. 2 CDs. Based on the World's Best-Selling Print Encyclopedia. Every Article from the World Book Encyclopedia. Thousands of videos, maps, simulations, animations, photos and sounds.
Unparalled Content
Every article - more than 18,000 - from the world's best-selling print encyclopedia.
Tested in hundreds of classrooms nationwide.
Gread-level appropriate vocabulary.
Content to reflect schoold curriculams.
Cartographically accurate maps and detailed illustrations.
Unabridged dictionary.
Homework Toolkit
New! Web Page Wizard creates personal, newsletter and school report Web pages.
New! Quiz Wizard makes flash card and true/false quizzes on any topic, and math quizzes, too!
Report, Chart and Timeline Wizards.
Highlighter and Sticky Notes.
Extensive Multimedia
Virtual reality tours.
Interactive simulations.
Hundreds of informative videos and animations.
Thousands of pictures and sounds explain conceptrs by example.
New! Cyber Safari
An "up-close and personal" view of the World-Famous San Diego Zoo
360-Degree Views of animal Habitats.
Fun Facts about exotic and rare animals.
True Tales about lif at the zoon and in the wild.
Multimedi includes videos, roars and more!
Minimum System Requirements:
Windows 3.1/95
486dx33 or faster
5MB of hard disk space
18MB Ram
SVGA 256 colors at 640x480
2x CD-Rom Drive
Soundcard
Mouse, Hard drive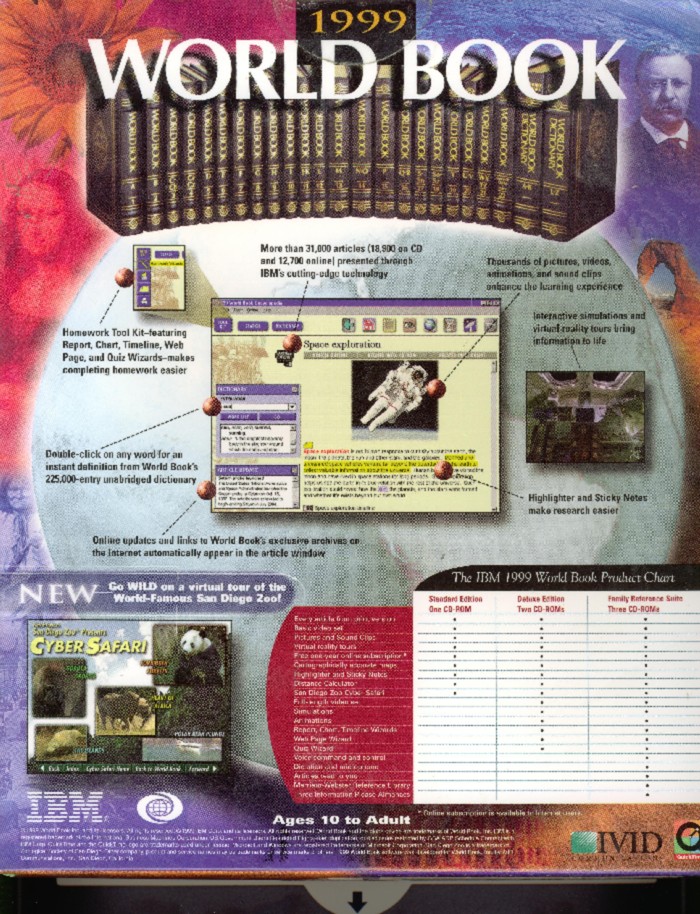 .