Click a
Category:
T-shirts by AJ Shark New!
Tribes
Finally there's something new in the world of first-person shooters. Tribes is a revolutionary action game (set in the Starsiege Universe) designed from the ground up to maximize the multiplayer gaming experience for up to 32 players. Enough single-player missions to get your boots wet, then it's all teamwork. Beacus no man is an island Got weapons? Standard-issue blasters and chain guns. But also disk launchers, mortar guns and sniper rifles for long-distance mayhem. Even a targeting laser that paints enemy targets for your teammates. Unprecedented Internet play. All you need is Internet access. Everything else is click and go. Innovative missions. Deathmatch. Capture the flag. Last Tribe standing. Defend & Destroy. Towers. Flying Vehicles, Hop in. Scout flyers for recon. Light and heavy personnel carriers for troop transport and gunship-like attacks. Top-down Commander screen. Set waypoints (attack, defend, repair) and orchestrate precision attack and defense strategies. Even a tv screen to see what your teammates see. Choose your armor. Light. Medium. Heavy. Upgrade with packs that boost everything from ammo count to shields to teammate repair. Even carry remote cameras or turrets inside enemy bases.
Minimum System Requirements:
Windows 95/98/NT 4 with Service Pak 3
Pentium 200 or faster
32MB Ram
SVGA 256 colors at 640x480
2x CD-Rom Drive
DirectSound compatible
Mouse, Hard drive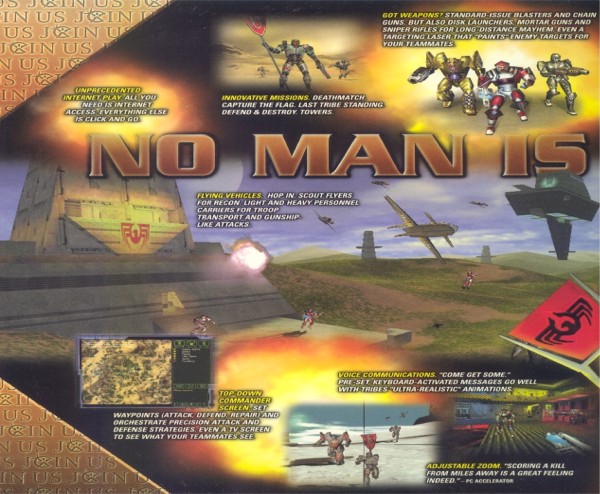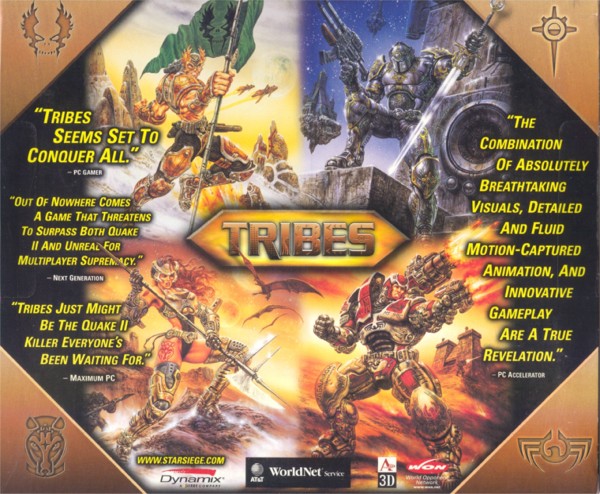 We now have T-Shirts by AJ Shark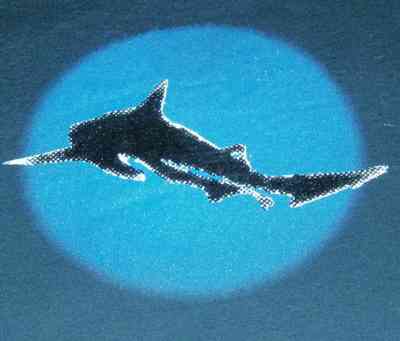 Hottest!