Click a
Category:
T-shirts by AJ Shark New!
CompuWorks Trailer Life
The official interactive Map and Directory of The Good Sam Club. Whether you're looking for a weekend getaway, or a month-long adventure, the Trailer LIfe Campground, RV Parks and Services Directory is the only travel tool you'll need.
Perfect for campers, and owners of motorhomes, travel trailers, and fifth wheels, the TrailerLiIfe Directory will help you access more than 15,500 listings of campgrounds, RV Parks and RV Service Centers. With just the click of a mouse, high-quality maps and easy-to-follow directions instantly lead you to the exact location. This is the complete Trailer Life Directory on CD-Rom and an invaluable travel companion.
Search for campgrounds and parks based upon state, region, city, zip code and more.
View detailed maps of every state and city across the United States.
Locate every Good Sam Park and Good Sam Club discount location nationwide, including those parks and campgrounds out of the Good Sam family.
Search for tourist attractions near your favorite campground and park.
Select the best campground based on price, park facility, cleanliness, availability of water, electricity, area attractions and visual appeal ratings.
Includes every listing from the Trailer Life Campground, RV Parks and Services Directory. Retrieve individual information on each park, including detailed directions on how to get there.
Minimum System Requirements:
Windows 95/98
Pentium or faster
18MB Ram
SVGA 256 colors at 640x480
2x CD-Rom Drive
Soundcard
Mouse, Hard drive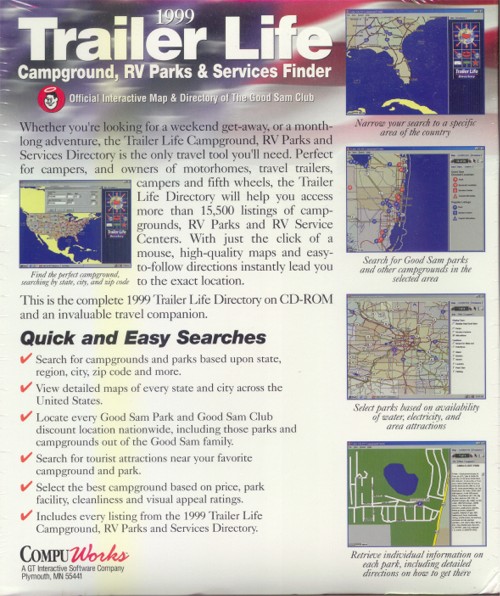 We now have T-Shirts by AJ Shark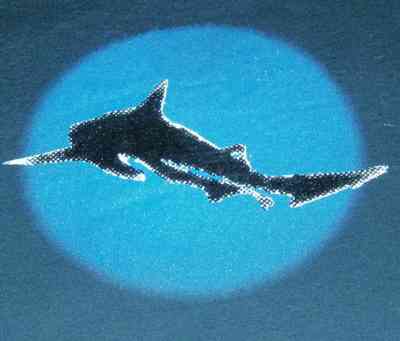 Hottest!