Click a
Category:
T-shirts by AJ Shark New!
Sierra's 3D Ultra Mini Golf
For kids to adults. Remember mini golf (we called it putt putt golf)? Scrambling across the Astroturf on a hot summer night trying desperately to beat your buddies to the windmill? We've got mini golf just the way you remember it...only much cooler.
3D Ultra MiniGolf has the vintage holes you love, plus a whole bunch of new ones you won't believe! And they're all jam-packed with gadgets, gizmos, strange creatures and crazy sound effects - taking a favorite pastime to a whole new level of fun!
Whack the ball between erupting volcanoes or bank a putt through a bustling space port. Watch in disbelief as your ball disintegrates in molten lava or - worse yet - your best friend sinks a hole in one!
Play it safe or take the riskier - but more rewarding - shots, with multiple ball paths. Play match, medal or race against the clock and friends to sink your ball first. Use EasyPutt for one click operation or TruePutt which lets you control the force and angle of your putt with the mouse. The most realistic physics and accurate ball movement of any computer mini golf game. Includes 2 incredible nine-hole courses.
Minimum System Requirements:
Windows 95/3.1
486/66 or faster
8MB Ram
SVGA
2x CD-Rom Drive
Win-compatible soundcard
Mouse, Hard drive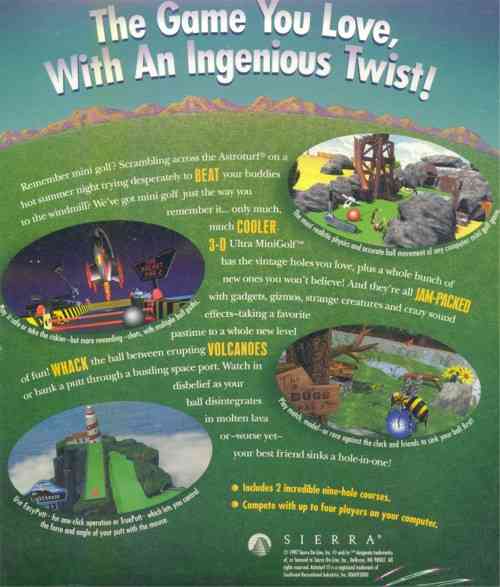 We now have T-Shirts by AJ Shark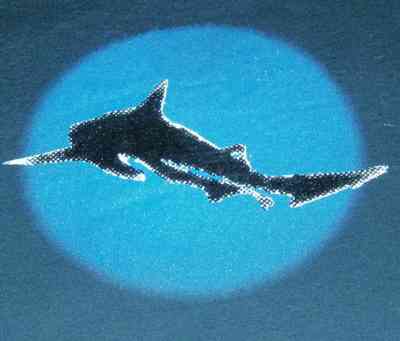 Hottest!