Labels 95
Compuworks Labels is your complete label solution! Create almost any label including mail lists, shipping labels, disk labels, file folders, video labels, name tags, business cards and much more.
Unlike other label programs, CompuWorks Labels prints all major product bar codes including UPC A, E, EAN 8 & 13, Code 39 & 128, ISBN, ISSN and Post-net bar codes.
CompuWorks Labels includes over 200 Avery label and envelope formats or create your own custom size. Design your label using almost any graphic image - there are over 1,000 color graphics included. This full-featured program also incorporates advanced text editing features.
Use the CompuWorks database for all of your mail list needs. The built-in database allows for multiple lists, includes all important fields and lets you select by any field. Also works with any major database program. And CompuWorks Labels allows you to access most major databases right from the program.
Easy-to-use toolbars make creating professional looking labels a breeze
Easily place graphics, in over 19 file formats, anywhere on the label
Screen layout is exactly to scale as the label you choose. No guesswork on how it will look
Prints all major bar codes including UPC and Post-net bar codes
Edit text with custom text-editing features. Use any font supported by Windows
Create lines, borders, circles, and boxes easily with built-in graphic tools
Use built-in database or any major database program
Select label by Avery part number or create custom designed label
Set labels to be numbered automatically. Great for tickets or product bar codes
Import company logo or graphics in 19 file formats including EPS, PCX, WMF, BMP, TIFF, GIF, TGA, DIB, WPG and JPEG
Preview labels layout before printing
Print all major product bar codes
Additional Key Features:
Scalable bar codes
Print previews
Imports over 19 graphic file formats
Label skip feature
Easy text justification
Includes 1,000 color clipart images
Minimum System Requirements:
IBM PC or compatible
486 or higher
Windows 95/NT
8MB Ram
Microsoft compatible mouse
CD-Rom drive
Microsoft compatible printer
SVGA monitor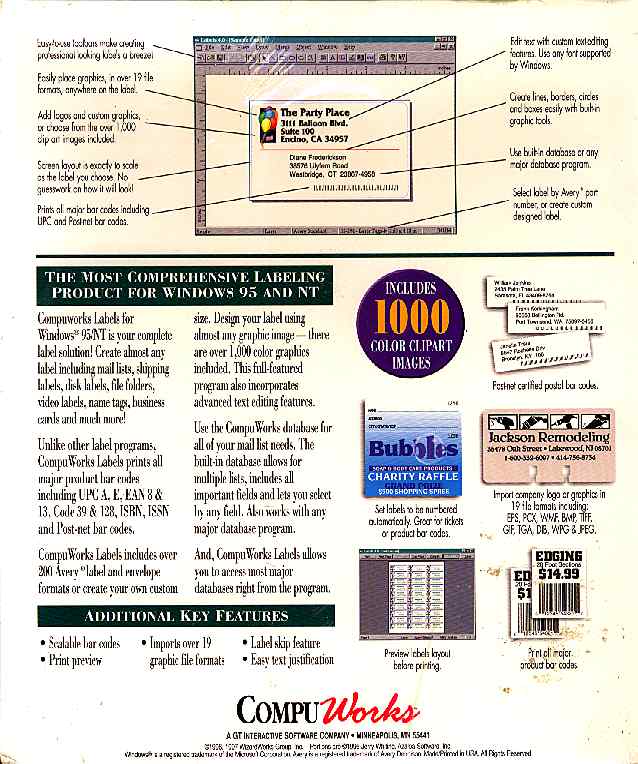 :